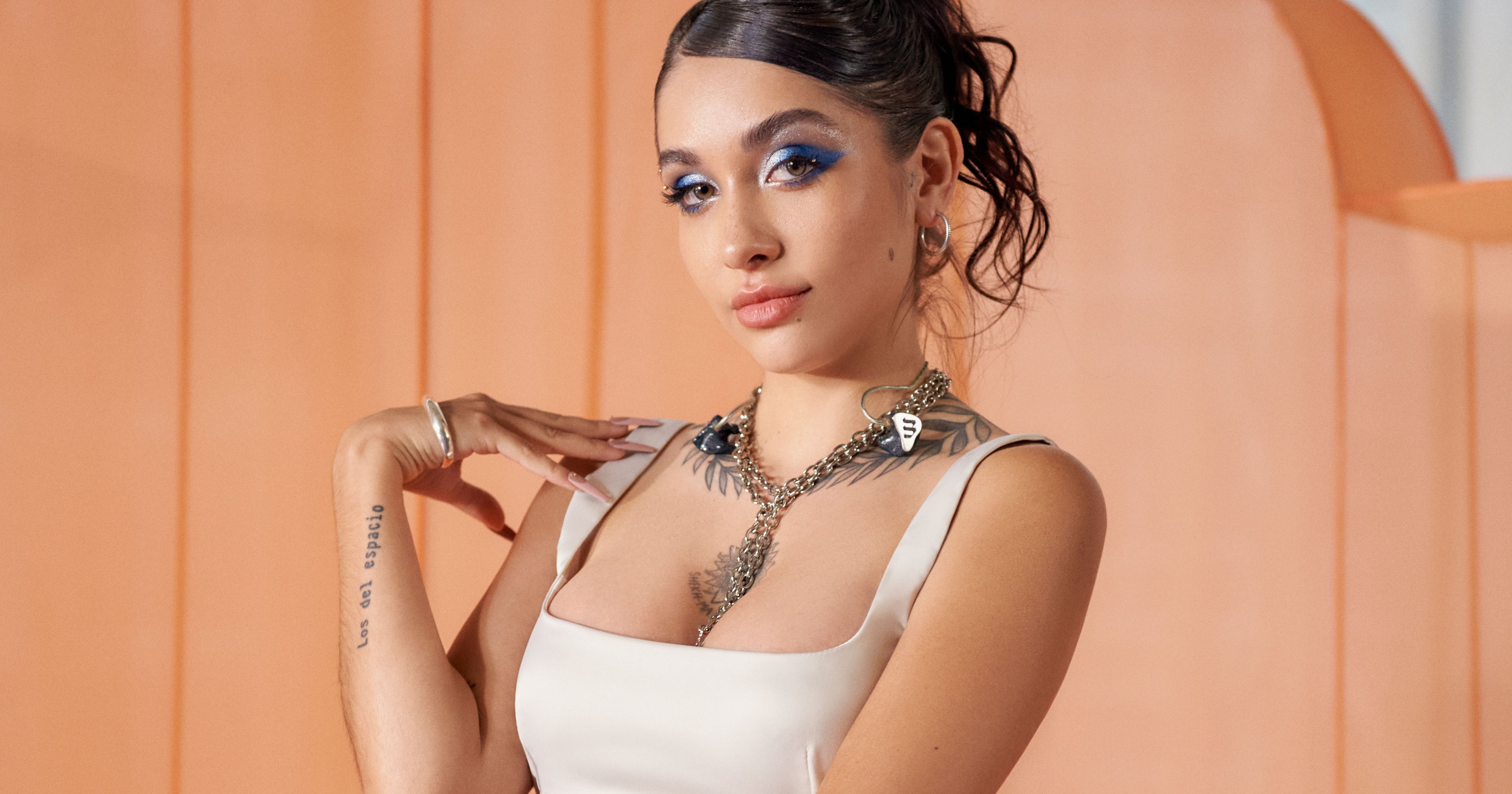 In the past two years, María Becerra has unquestionably become one of Latin music's go-tos for hit-making collaborations. To date, the Argentine singer has worked with global superstars like Camila Cabello and J Balvin and is best known for her in-demand features, such as "Qué Más Pues?" and "Hasta Los Dientes." 
But now, the 23-year-old is entering a new chapter. And it's one in which she wants the world to get to know the woman behind La Nena de Argentina, the title of her latest album, and shine on her own.
"You have to make decisions in life and be daring," Becerra tells Refinery29 Somos over Zoom. "There was a lot of fear [about pursuing a music career], but here we are. You have to believe in yourself."
Long before becoming one of Argentina's most-streamed artists on Spotify with more than 20 million monthly listeners, Becerra was a young girl from the Quilmes province of Buenos Aires. Born in 2000, as a child she grew up idolizing singers like Whitney Houston, Mariah Carey, Amy Winehouse, Tina Turner, and Madonna. "The biggest female artists and the biggest female voices have been my biggest inspirations," she says. 
In 2015, Becerra took her love of singing to YouTube, amassing a significant following by posting vlogs. Despite this decade seeing influencers like Charli D'Amelio and Addison Rae become pop stars, there exists a stigma against artists who crossover in that way. Sometimes they're seen as capitalizing on another branding opportunity instead of as serious musicians. But Becerra was ready to make the jump from YouTube and didn't let stigma against influencers doing a career switch stop her from chasing her music dreams. 
After the release of her debut EP 222, she became the first Latine artist to sign with 300 Entertainment, which includes Megan Thee Stallion and Young Thug on the label roster. As part of Argentina's Latin trap wave, which bolstered artists like Bizarrap and Tiago PZK, Becerra scored her first hit with the atmospheric "High." The following year, she extended her success across the globe with the remix featuring fellow Argentine singer Tini and Spanish artist Lola Índigo. That would be the first of many all-women collaborations that have been a key part of Becerra's music career.
"That's the goal above all," she says about bringing other women to the forefront. "Before, we were seen as in competition with each other. Today, I feel everything flows uniquely between women. When collaborating woman to woman, there's a sense of camaraderie."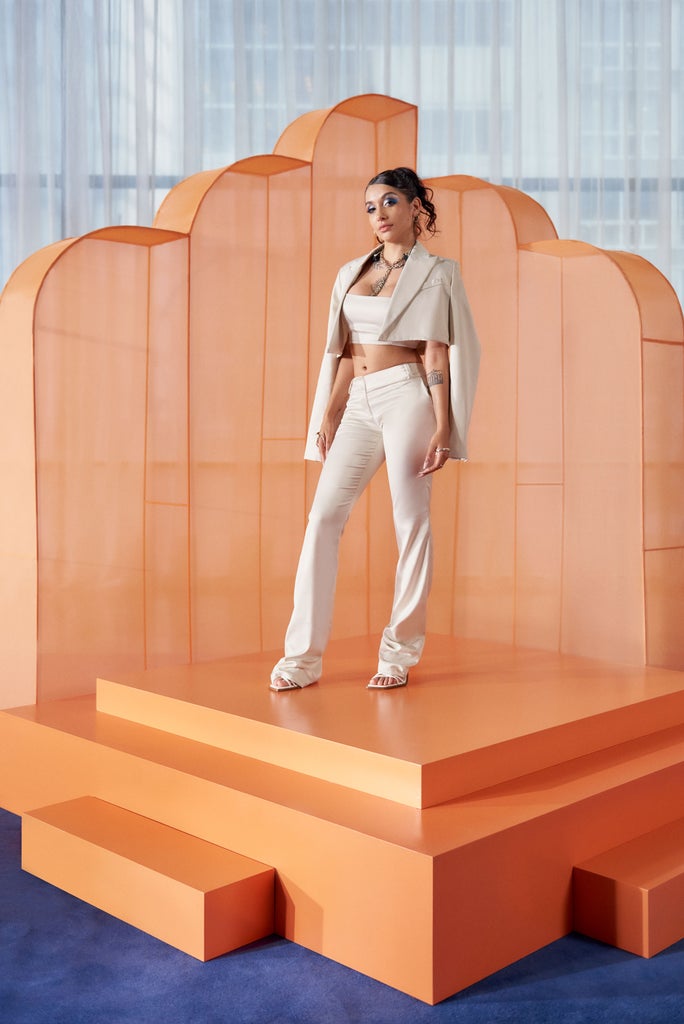 Becerra's follow-up EP Animal, Pt. 1 garnered her a nomination for Best New Artist at the 2021 Latin Grammy Awards. Later that year, the full Animal album arrived with two girl power reggaeton anthems: "Wow Wow" with Becky G and the title track with Cazzu. After catching the attention of J Balvin, he enlisted her for his sultry romp "Qué Más Pues?" That collaboration turned Becerra into a global force. Two years later, the song remains one of J Balvin's most-played tracks on Spotify with more than 673 million streams and counting. 
Becerra calls him by his first name, Jose, and reveals what she texted him a few days ago.
"My life changed greatly because of that song," Becerra says. "Recently, I sent a message to Jose thanking him again because I came across a picture on my phone from the day we shot the video. Not only for that — I sang at the Grammy Awards [in 2022] with him because he invited me."
Becerra argues that the 37-year-old superstar "could've done that performance by himself." The fact that he didn't spoke volumes for the up-and-coming artist. "For me, that was another major opportunity," she recalls.
After the success of "Qué Más Pues?," Becerra became the South American It Girl to collaborate with. Cabello enlisted her for the disco-infused "Hasta Los Dientes" on her Familia album. In 2022, she was featured on hits by Zion y Lennox, Natti Natasha, Tini, Manuel Turizo, and Pablo Alborán. Not counting the collaborations that she turned down, Becerra reveals she started to feel "oversaturated" last year. She learned to value her time and energy when picking collaborations.  
"I'm having more confidence in myself, in my project, and what I'm doing," Becerra says. "I'm grateful for all those artists who trust in me. My lesson from 2022 is that I'm never going to say yes to everyone again because I realized a lot of people are looking to collaborate with me only to have a viral moment." 
It became clear that some were approaching Becerra for the wrong reasons. "Their intentions aren't to create art with me, to get together in the studio and connect," she explains. "I've grown a lot and I'm seeing things in a different way."
For her second album, La Nena de Argentina, which dropped in December 2022, Becerra made the bold move to not include any featured artists. Though many of her features have become her big hits, she didn't want to compromise her sound and lyrics; she wanted this LP to be "100 percent me." The title may ring familiar — it's pulled from her tagline in her songs. In the alluring "Inspiradora," Becerra gets personal and opens up about her bisexual identity by sharing her affection for a woman. 
"It's something very important to me, the [queer] visibility, that people can identify, and that's something that I identify with," Becerra says. "That's who I am. This album is who I am."
On this project, Becerra is not bound to one genre. She especially shines solo in the perreo-ready "Automático." Meanwhile, she embraces bachata in the "Hasta Que La Muerte Nos Separe" and puts an electronica spin on cumbia in "Adiós." 
Whether coming through with a bankable guest feature or shining solo, Becerra is proving that she's the key to her own success. Earlier this month, she kicked off her tour for La Nena De Argentina on the Lollapalooza Argentina stage. Becerra performed right before Billie Eilish, including a new version of "Adiós" with legendary cumbia band Ráfaga. She's blazing a space for herself as a fierce and fearless pop star of tomorrow. 
"We know I was taking a risk to release an album by myself, but the truth is I'm very happy," she says. "I didn't want to limit myself."
Like what you see? How about some more R29 goodness, right here?