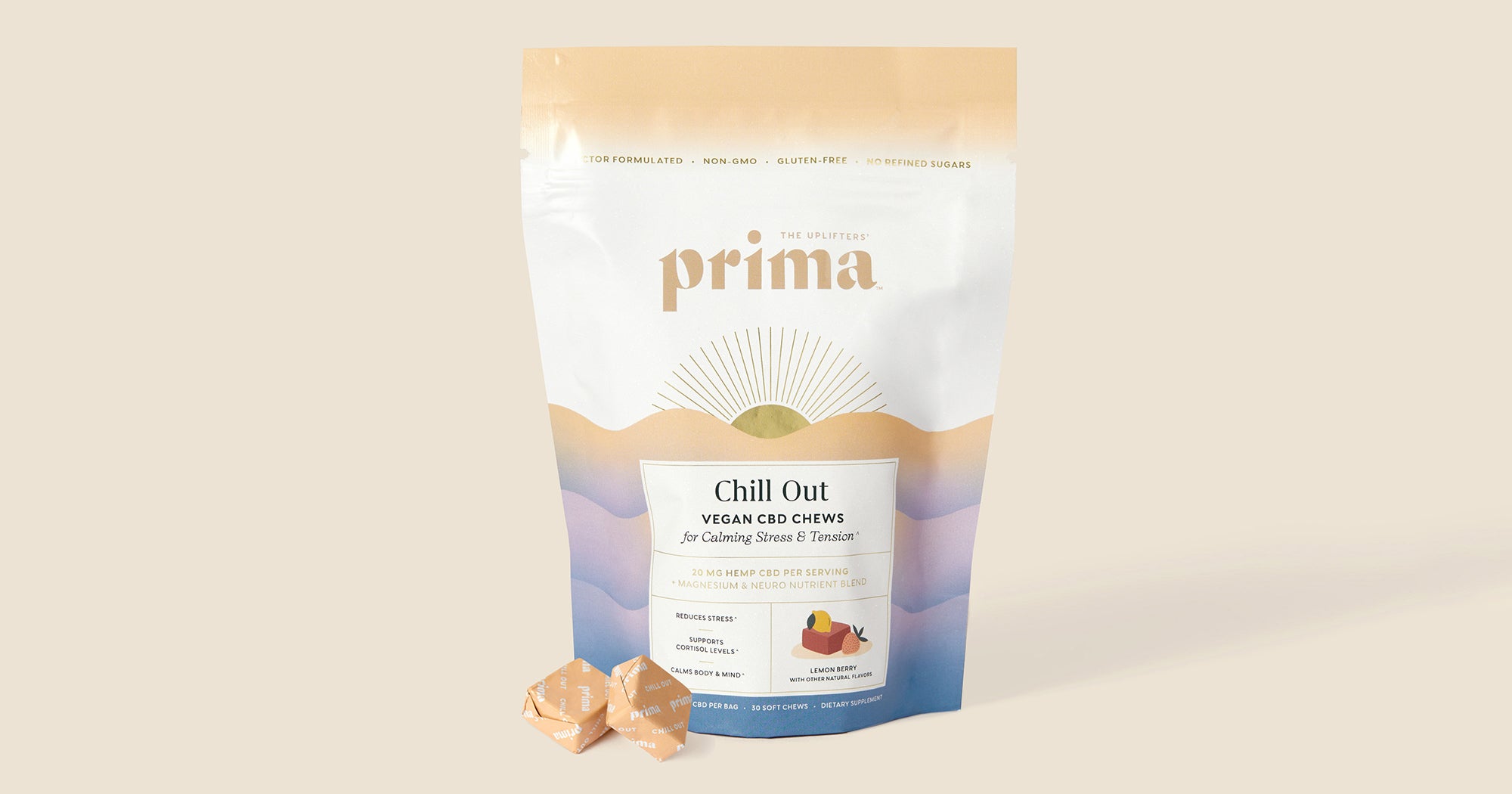 Even if you aren't an ardent follower of wellness trends, chances are you're aware of CBD. It's short for cannabidiol, a non-psychoactive compound that's in marijuana and hemp, and it can now be found in products that range from skin care to sparkling water. Unsurprisingly, CBD products have found a particular fanbase among people who want to feel relaxed — the compound is taken to reduce anxiety, headaches, and migraines (though it should be noted that CBD isn't FDA-approved to treat anything).
In a 2019 story on CBD, Refinery29 health reporter Cory Stieg wrote, "Some promising research on humans has demonstrated CBD's ability to reduce social anxiety, psychotic symptoms in people with schizophrenia, and cravings for heroin — but the results of these studies haven't been conclusive, explains Jeff Chen, MD, MBA, and the executive director of the UCLA Cannabis Research Initiative. This lack of data, however, hasn't stopped this new industry from flourishing." 
One such wellness brand pioneering the CBD space is the much-hyped, award-winning Prima, ​​a certified B Corp that makes CBD-infused products like sleep aids, body soaks, and water powders. Its latest release is Chill Out, a fast-acting vegan CBD chew. The brand says each serving (aka two chews) offers 20 mg of bioavailable and organic hemp CBD along with other essential vitamins and minerals like magnesium, vitamin C, niacin, and biotin.
"The modern-day stress epidemic is wreaking havoc on our bodies and minds, and we all need daily, fast relief to escape the chaos. … [I]t's a delightful, instant way to take the edge off and just chill, without the hangover or the high," said Christopher Gavigan, Prima's founder and co-CEO, in a press release.
To get a truer sense of how well Chill Out performs (under pressure), I had a colleague (unnamed for anonymity) — a self-proclaimed person living with anxiety — test out the chews for a few weeks and report back.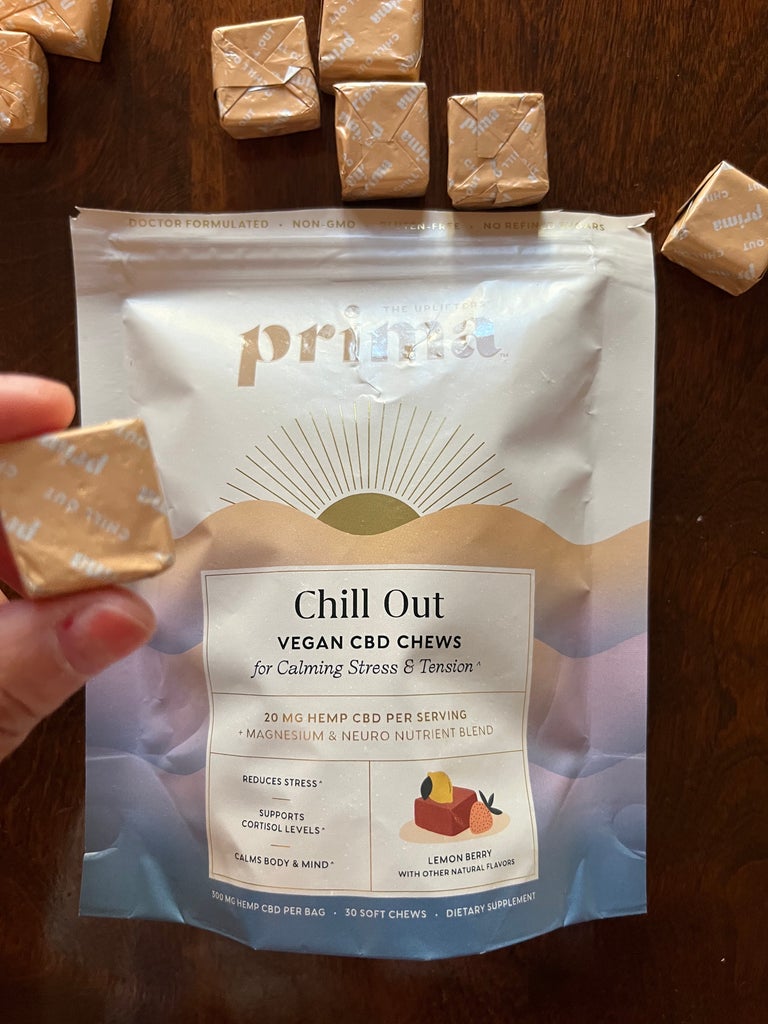 Shop all Prima
On a day-to-day basis, how stressed out or anxious do you get?
"I experience a low to moderate level of anxiety most days, but I go through periods of higher anxiety from time to time."
What are some things you do to de-stress or manage your anxiety?
"I use talk therapy, breathing exercises, cardio, supplements (vitamin D and magnesium), and I try to get enough sleep. In the past, I've used medication as well."
When did you start introducing CBD products in your life? Would you say you're a fan?
"I first tried CBD oil a few years ago and didn't feel like it did much for me, but I'm always open to trying new healthy ways to manage stress!"
What are other CBD products you use?
"Lately I've been drinking Recess CBD drinks — an expensive habit! I do feel like my body relaxes a bit after drinking one, but it's hard to know if it's just in my head."
How often do you take Prima CBD chews? Do you feel like they're working? 
"I can never tell if they actually work or if it's just a placebo effect, but I did feel a bit calmer afterward, maybe 5-10 minutes after taking one. It's subtle! Again, it's honestly hard to tell if it's real or in my head, but I saw that the chews also contain magnesium, which I've read can be helpful for stress.
"Flavor-wise, they remind me of a Starburst but with a pretty intense and weird aftertaste. So more medicinal than candy-like, kind of like taking any supplement."
What is your preferred method of eating these chews?
"I was taking one every morning for about a week, and now I just take one whenever the moment strikes (but never more than one or two in one day)."
Would you recommend this product?
"If you're curious to see what all the CBD fuss is about, they are a nice introduction! Just prepare for the aftertaste. (I think the Recess drinks are also a good intro because they don't taste as weird.) Finally, if you're looking for a long-term solution for ongoing anxiety, talking to a therapist is always a great first step."
Refinery29 in no way encourages illegal activity and would like to remind its readers that marijuana usage continues to be an offense under Federal Law, regardless of state marijuana laws. To learn more, click here.
At Refinery29, we're here to help you navigate this overwhelming world of stuff. All of our market picks are independently selected and curated by the editorial team. All product details reflect the price and availability at the time of publication. If you buy or click on something we link to on our site, Refinery29 may earn commission.
Like what you see? How about some more R29 goodness, right here?
Facialist Georgia Louise Created A CBD Serum
Navigating OCD As A Black Woman
Why Take A Shower When CBD Bath Bombs Exist?