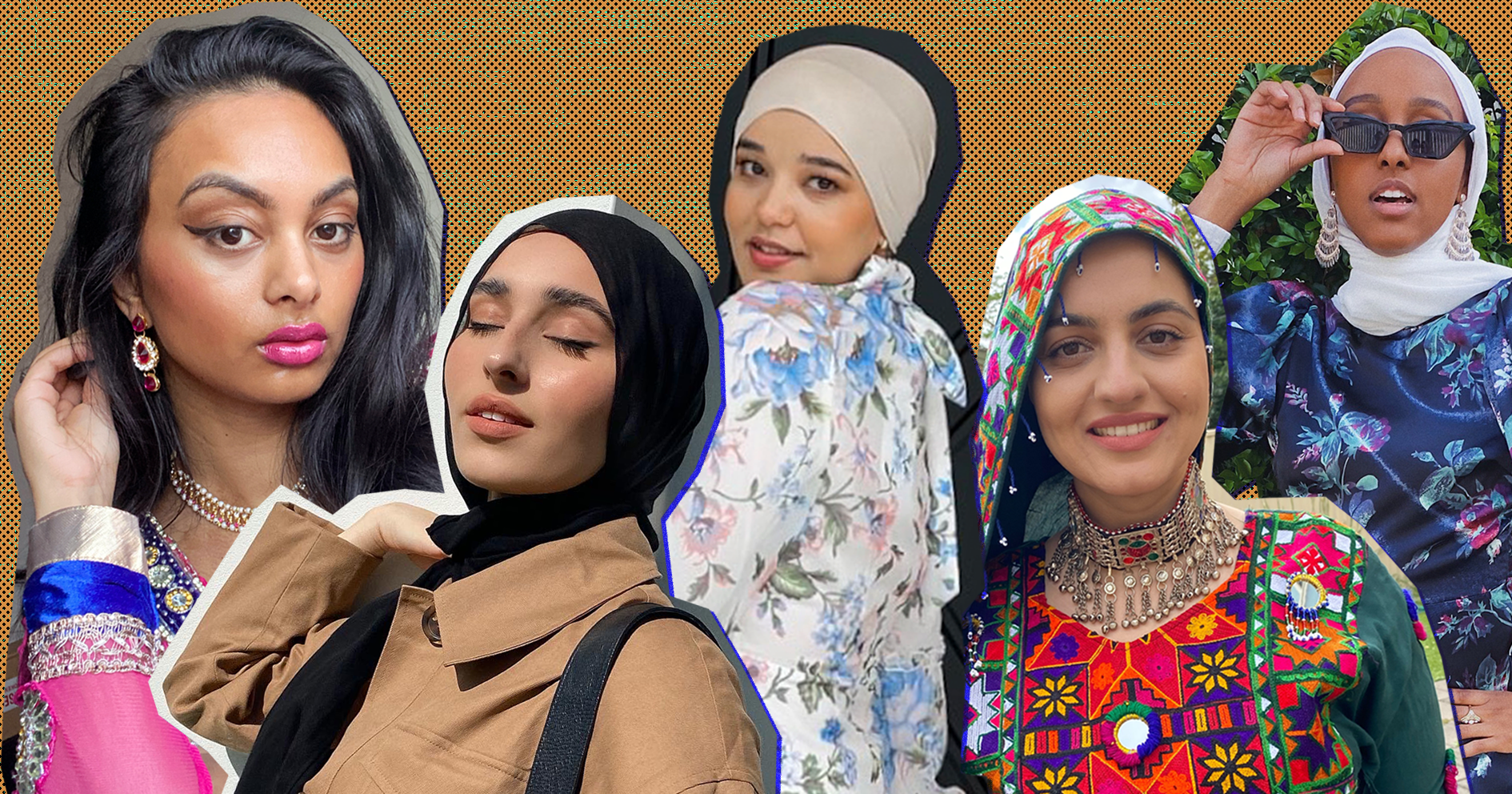 The past month has been one of the busiest for Mawluda Momin, the co-founder of Sydney modest fashion boutique, TWIICE. With extended Ramadan trading hours and high demand for a festive collection launched two weeks ago, the booming business is testament to the important role fashion plays, for many Muslim women, in the lead up to and on Eid.
"Our Eid 22 collection has been a huge success so far, only two weeks post its release," the 28-year-old tells Refinery29 Australia. "Our customers are buying everything from casual dresses to more elevated satin dresses."
Momin — who moved to South Australia from East Turkestan when she was eight — launched TWIICE in December 2018 with her sister and close friend after struggling to find modesty fashion that was comfortable and stylish.
"Growing up, there was absolutely nothing, especially in South Australia where there isn't a huge Muslim shopping strip — not even a small boutique," she explains. "Modest fashion in my teens was either really mature looking maxi dresses or awkwardly-layered mainstream styles, such as under tops with sleeveless dresses and tights under shorter dresses."
Through opening a shop in Greenacre in Sydney's southwest, having an online boutique and also selling through The Iconic, Momin's followed her dream to "bridge the gap between mainstream fashion and modest fashion" while staying "consistent with Australian designers in terms of quality, aesthetic, and fabrication."
This year, Eid, an Islamic celebration at the end of the month of Ramadan, begins on May 2nd. Momin says, there are diverse ways that it's celebrated by different people, but presenting one's best self is often a big part of it.
"Eid Al fitr, the upcoming one, which is celebrated at the end of Ramadan, gives me a sense of unity and celebration of everything good because of the teaching and trials we face in Ramadan," says Momin.
"Dressing up for Eid is the oldest tradition and we have been fortunate to be able to do that. On Eid morning, you might go to the mosque where you face hundreds of people, so you want to look your best. And even if you don't go, it's a time that you feel excited to celebrate in style.
"Personally, I feel like I have wasted Eid if I don't dress up for the occasion. I find honor in dressing up for Eid. It's is a celebration bestowed by God, so I feel honored in showing up as my best self."
Sydney-based digital creator Nawal Sari says it is customary for her and her family to buy new outfits come Eid time, and she has fond memories of experimenting with her style over the years and seeing it evolve.
"It's Sunnah (meaning Islamic tradition) to buy new clothes or put on your best clothes to see and celebrate with the community, family, and friends," says Sari.
"Some of my iconic Eid outfits growing up were definitely bold… the first year I put the hijab on, I wore a Burberry-inspired hijab with red lipstick. Although cringey now, I love the memories associated with it, and going Eid shopping with my mum and sisters each year."
Sari is yet to decide on exactly what she's wearing this year when she visits restaurants and unites with family for prayer in a community park or mosque. But regardless of her outfit, her makeup will be practical yet glowy for the occasion.
"I usually opt for something I can easily retouch, that's not too heavy," she explains. "Due to praying and having to do Wudu (ablution) before prayer, I have to reapply my makeup often. This year I might do my classic cat-eye-lash look and keep it very warm looking."
For Adelaide-based mother-of-two, Hafifa Khelwaty, preparations for Eid begin in the week leading up to it, as she continues observing the month-long period of fasting during Ramadan.
"I will prepare for Eid days in advance by heading to the shops and splurging on myself by purchasing new clothes, getting a haircut, nails done, and picking up all kinds of diet-killing, calorie-dense ingredients and baking sweets until my heart's content," she says. "Of course, all this extravagance never sways from the boundaries and true meaning of Eid itself."
After buying several options and then waiting until the day to pick a winner, Khelwaty's Eid outfit is always a traditional Afghan dress. The vibrant, intricate designs are as dazzling to look at as they are representative of the rich culture, which she wants her two young daughters to learn about.
"This year I have a deep, emerald green dress made of velvet with gold embroidery around the edges, and a low V-neck line dress that I'm looking forward to wearing," she says.
"In truth, clothing, food, family, and that sense of community is all that remains of our cultural heritage, and keeping that alive and passing that on means so much to me. I think that's the true reason why wearing an Afghan dress on Eid day always wins out. I don't want to give up an opportunity to share my culture with my children, as I don't always know when the next opportunity will come by."
Echoing Sari's comments, Khelwaty says: "It's important the makeup is durable and long-lasting".
"For as long as I can remember, the perfect makeup for Eid was just as important to me as the perfect clothes or desserts," she says, adding she's opting for a "bold red lip" this year.
It's also not just about the final look, but the process of application that reminds her of Eid's important impact.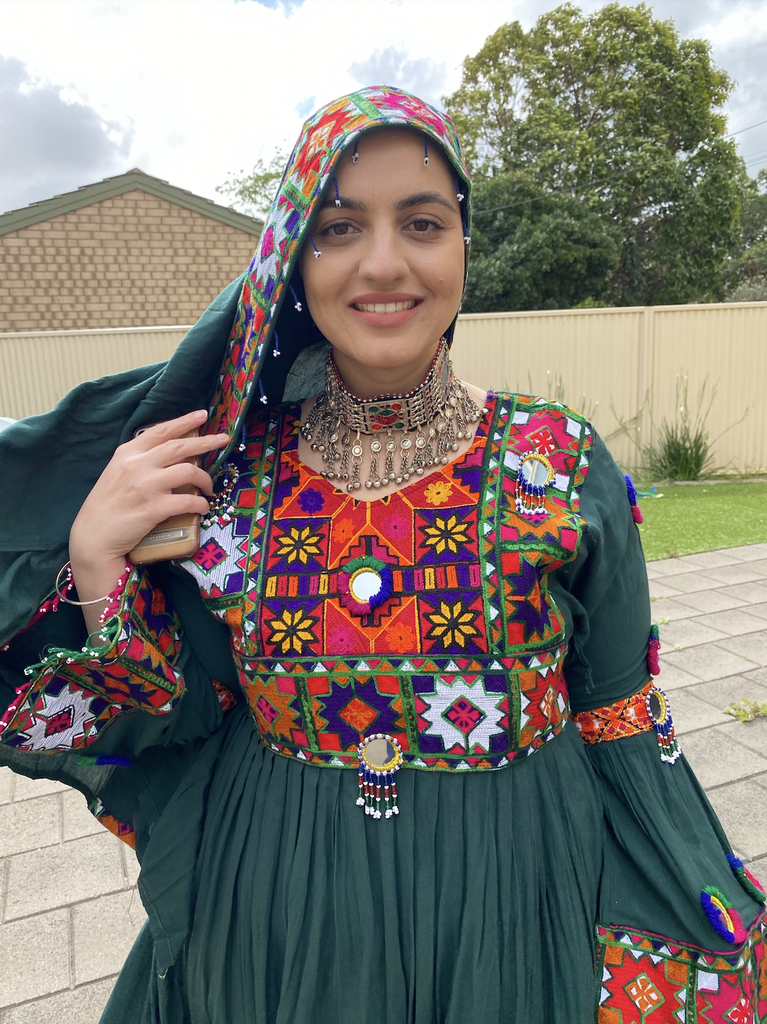 "Eid makeup is very special, it's the ritual of getting glammed up for the day itself that marks it as significant. The preparation, precision, and care taken in each carefully-planned stroke of the brush cements in the back of my mind that today is special and something to get excited about," she says.
"When the day starts with such precision and care, the rest of the day follows. Equally is the effect makeup has on the mindset. The sparkle and glow of makeup has a tendency to help us feel like we are our best selves, it helps posing in all the pictures with an extra big smile knowing your skin, lips, and eyes are well-groomed and prepared for this lasting memorable moment amongst family and friends."
Oromo Australian software consultant, Ikram Boru, says upholding a certain style standard hasn't always been the biggest priority on Eid, but rather, carefully selecting an outfit that's comfortable and makes her feel good, as she does prayers followed by a big breakfast with family.
"I wouldn't say that style has been important, it's more looking for pieces that I can be comfortable in and not wear too many layers to keep it modest," she explains.
"This year, I'm sticking to a classic three-piece abaya from a boutique retailer in Melbourne called Niyyah Boutique. Her pieces are designed in Dubai, and I'm opting for a sage-green palette, as I feel like that's the color of the season," she continues, adding she's also bought the same set in brown.
In addition to some makeup essentials, such as filling in her brows, applying mascara, and a slick of lip gloss, Boru always tries to get henna done just before Eid.
Also known as mehndi, henna is a temporary body art that's particularly popular among South Asian communities, most often applied for weddings, religious occasions, and important festivities.
It's becoming increasingly popular in Australia in recent years, with local henna artists facing higher demand for their services before and during Eid. Sydney-based henna artist, Payal Sharma is taking up to 10 bookings a day this weekend, ahead of Eid, and has also created special Eid packs for interstate clients that include several cones of henna paste, along with a guide on how to apply different designs.
Applying henna is a special Eid ritual for Bengali Australian Sophia Chowdhury, providing a beautiful bonding opportunity for her and her female relatives, while accentuating their entire Eid looks that consist of traditional South Asian attire.
"I love that you get to get ready with your family," says the Melbourne-based marketer and stylist. "Whether it's your cousins or aunties applying henna, helping each other match a makeup look to our colorful fits, a mother helping to pin your saree, thread through string on the pants of your salwar kameez, or making sure jewelry and your bindi is sitting center on your face."
Given her profession, style has always been incredibly personal and important to Chowdhury, and she likes to experiment by combining eastern and western influences. That could be wearing sneakers with her salwar kameez, or making a statement with her makeup.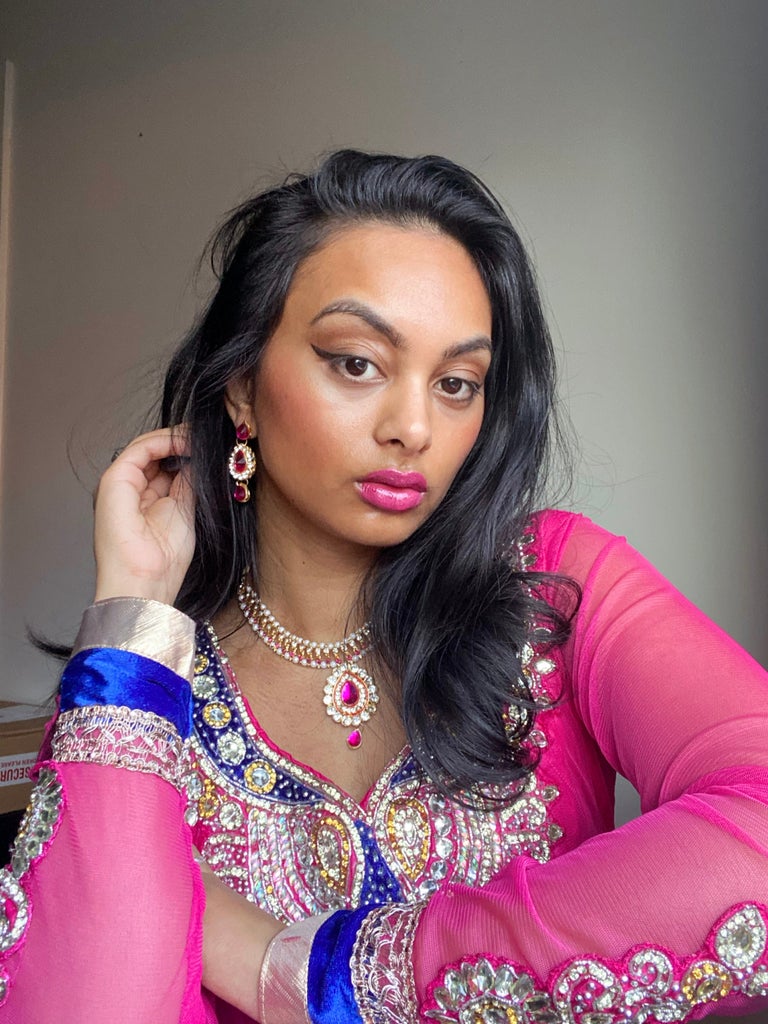 "I usually create a look depending on my outfit, which usually incorporates gold or silver used in our traditional garments," she says.
"Eid is known as the Muslim Met Gala, and this year the actual Met Gala falls on the same day, so I know the looks are going to be extra this year. I will probably try a Met Gala-inspired, Euphoria, or Bridgerton-inspired look."
This story was originally published on Refinery29 Australia.
Like what you see? How about some more R29 goodness, right here?
I Tried A Full Face Of Jones Road Beauty
How To Nail This Low-Maintenance Beauty Trend
But Why Is Clean Beauty Still So White?