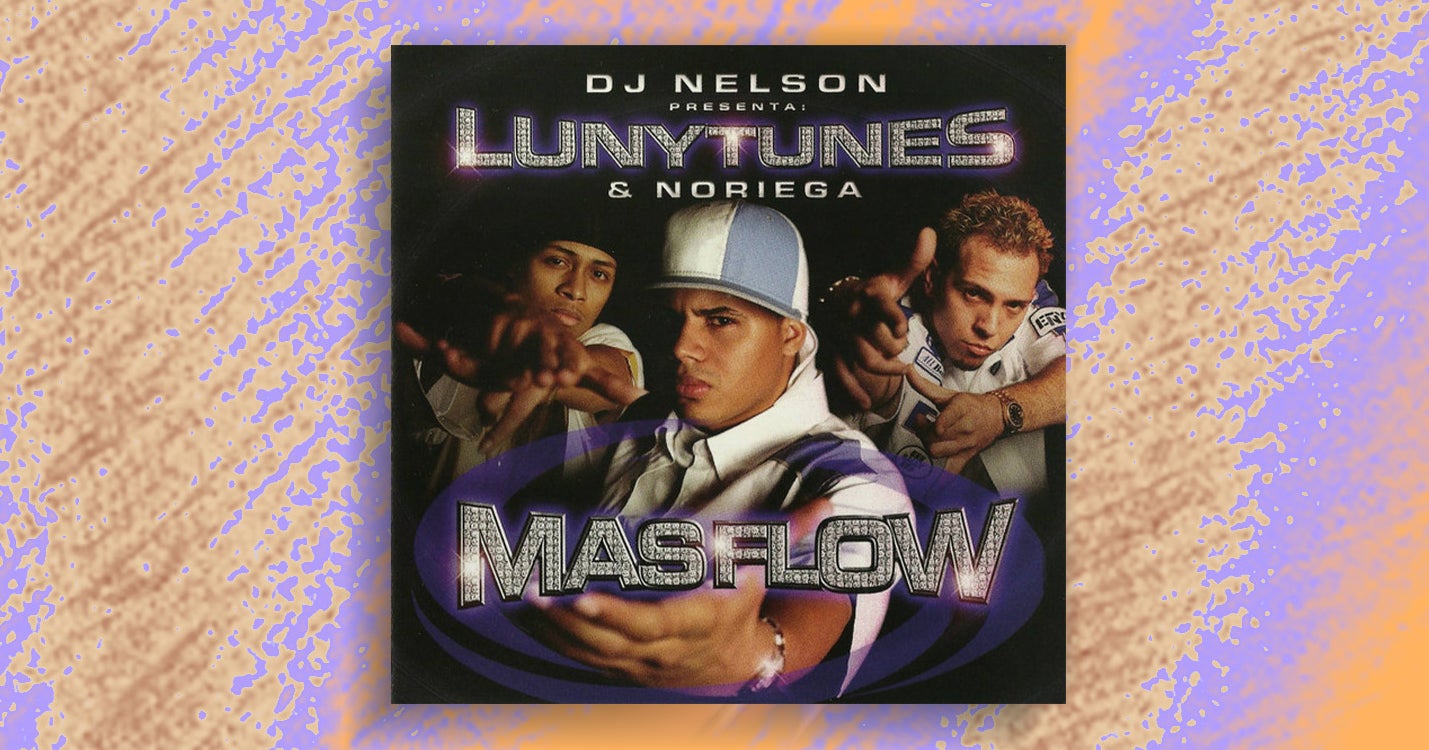 It's been 20 years, but Brenda Mejia still vividly remembers watching a TV infomercial playing Tego Calderón's "Metele Sazón" back in 2003. At the time, the teenager preferred the bubblegum pop of Christina Aguilera and Britney Spears over reggaeton, a genre that was slowly and controversially spreading from nightclubs to radio stations. Then the San Juan native heard Tego's rhyme and rhythm — and it "haunted her." She connected with it so much that she went out and bought Mas Flow, the debut compilation album by reggaeton producers Luny Tunes and Noriega that featured the track, and made the hit a part of her quinceañera.
In an era before Spotify, and when iTunes was just starting to find its groove, hip-hop producer compilation CDs were the wave, and Caribbean reggaeton producers adopted the mixtape model to drop the now-iconic Mas Flow.
"[Mas Flow] takes you to the best parts of your adolescence," Mejia, who's now 34 years old, tells Refinery29 Somos. "This was the soundtrack you'd hear at our party de marquesina. Everytime the DJ played 'Motívate al Baile,' everyone stood up. Even the people who didn't usually dance."
Reggaeton had been simmering on the Puerto Rican underground for years, gaining momentum and a fiercely devoted fanbase. However, it was Mas Flow that flipped the script. Dominican-American production duo Francisco Saldaña (Luny) and Víctor Cabrera (Tunes) joined forces with Puerto Rican producer Noriega and gathered some of the finest talent on the archipelago, from Calderón, Daddy Yankee, Nicky Jam, and Don Omar to Wisin & Yandel, Zion & Lennox, and Hector & Tito. Together, the caribeños crafted a sonic mosaic that transformed the industry. 
During the summer nights of the early aughts, the iconic beats of Mas Flow helped transform reggaeton from an alluring and contentious sound of the underground to a cultural phenomenon, a fusion of rhythm and memories that still resonate within millions of Latines who blasted the album from PR, to Orlando, to New York. Twenty years later, the collection of songs are more than nostalgic — they paved the way for the global urbano revolution that echoes today.
"Honestly, this album marked reggaeton's shift from underground to commercial," Mejia says. "Until then, everything was done on the low. If Mas Flow hadn't happened, [Daddy Yankee's] 'Gasolina' wouldn't have been as successful."
A world away on the West Coast, in San Francisco, California, songs off the mixtape made their way to the ears of Stefany Hernández. "I listened to that CD for an entire month," she laughs, recounting her teenage days riding the train and playing "Entre Tú y Yo" by Don Omar on her Walkman. It was a Boricua friend who had relocated from New York to California who had brought Hernández the CD for her to listen to. "He was like, 'This is what's poppin in New York right now. I feel like it's gonna be coming to California really soon,'" the 35-year-old Salvadoran tells Somos. "We're listening to it as we're driving, and I said, 'Whoa, what is this? Can you burn me a copy?'" 
The tracks on Mas Flow didn't just make waves; they orchestrated a tidal wave of change: Chart-toppers like Wisin & Yandel's "Aventura" and Zion & Lennox and Tito El Bambino's "Hay Algo En Ti" dominated airwaves across the Caribbean, Latin America, and the United States. It was our very own people who trafficked, in the best of ways, our cultura elsewhere, allowing for reggaeton's resonance to surge into the mainstream all while obliterating preconceived notions about the genre. It was a testament to the power of the genre and the street kids who were vilified for their artistry. 
"This type of reggaeton comes from gente de abajo, [artists and producers] who had to record in clandestine studios or in their homes, nothing fancy like the programs available today," Mejia says. "So there's a conversation on the island about banning it. But of course, as teenagers, the more you restrict something, the more you want to be a part of it, so we found ways to continue listening." 
The hype was real. In San Francisco, Hernández remembers waiting on line at Discolandia, a small venue in The Mission District, to purchase tickets for a Don Omar show. "We'd wait in line to buy the tickets in-person. There were no texts, so we would page or call each other to set up who was in charge of buying the tickets for everyone. It was a group effort, a group event," she says. "Simply put, that album was what really introduced reggaeton to the States."
Yessenia Mercedes, a 35-year-old Dominican from New Jersey, agrees. "If it wasn't for Luny Tunes, I feel like there wouldn't be a Bad Bunny or a Rauw Alejandro. They were the epitome of what reggaeton is," she says. "One thing I appreciate about both [Bad Bunny and Rauw Alejandro] is that they acknowledge that they were not the first ones, that they have converted it and transformed it to something new." 
Mercedes attended the first-ever reggaeton concert at Madison Square Garden, which featured multiple icons like Calderón, Daddy Yankee, and Don Omar. Twenty years later, each of these artists, like their successors, can fill this arena, and many more around the world, all by themselves. 
Still, as the years have passed, Mas Flow continues to reverberate through the lives of these individuals. For Mejia, Hernández, and Mercedes, the album is a vessel of memories, a journey through time, culture, and personal growth. As Mercedes puts it, "That's the beauty of music. You can literally close your eyes and envision where you were at that moment when your favorite song came out, who you were with, what you were wearing, what cologne you had on. Music can literally transport you."
Luny Tunes and Noriega's Mas Flow isn't just an album; it's a time capsule, a musical revolution that bridged cultures, defied expectations, and ignited a fire that burns even brighter today. Even after their peak in the mid-2000s, these producers inspire the likes of reggaeton giants like Tainy, Sky Rompiendo, Ovy on the Drums, Chris Jedi, and many more. 
Mas Flow not only revolutionized the reggaeton music scene with its compilation album format, diverse musical influences, innovative production techniques, and widespread commercial success, this album marked a turning point for reggaeton, propelling it from a regional genre to a musical phenomenon and setting the stage for reggaeton's global domination 20 years later. 
Like what you see? How about some more R29 goodness, right here?