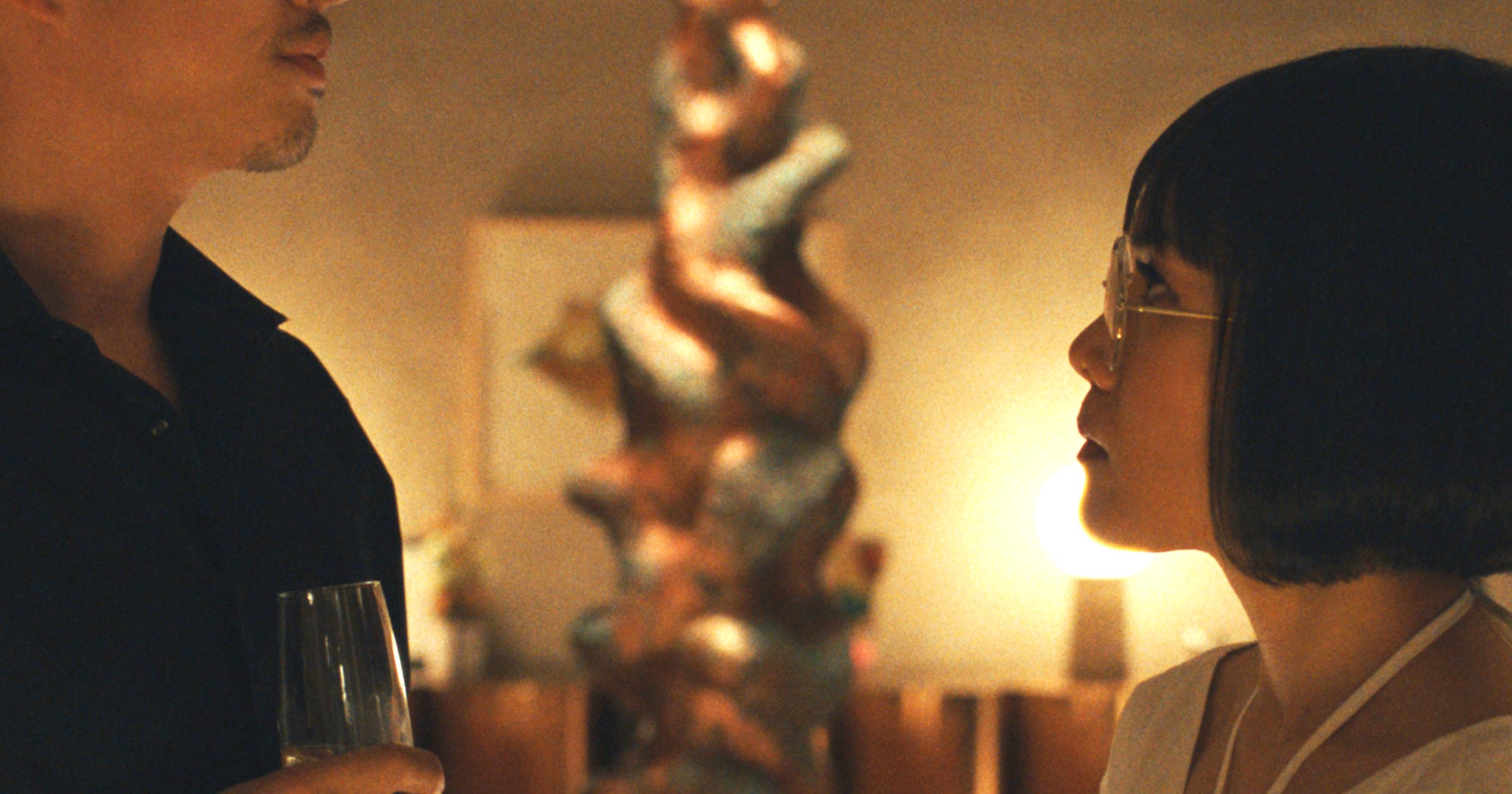 Time is flying by and somehow Spring is here. But we're in that awkward stage where one day brings sunshine and the next April showers, so while nature figures out how it's feeling (it's alright girl, take your time), you can tuck yourself in for a cozy night, curled up on the couch, and watch the latest TV shows and movies.
Our fave picks for this month match what's going on outside and are giving us the whole range of emotions that make us human, and since seasonal depression is real, consider these new releases a form of therapy. After all, finding a therapist can be hard (and expensive) so we're hoping our editors' picks on what to watch this month will be able to tide you over in the meantime.
These TV shows and movies will have you feeling inspired, on edge, or ready to rage. And honestly, it's okay. Because what is entertainment if not trying to make you feel something?
Beef
Where to watch: Netflix
When: April 6
Good if you like: Fleabag
Ali Wong and Steven Yeun? Consider me sold. The duo are powerhouses in their own rights and together, but together, they are straight up electric. If you think you know what the premise of Beef is about, prepared to be surprised. The 10-episode Netflix series uses an incident of road rage between entrepreneur Amy Lau and handyman Danny Cho to delve into the nuances of anger and what it means to feel like you have it all (or nothing) and are fully dissatisfied. As enemies, Wong and Yeun sizzle when they're across from each other (seriously, I wasn't sure if they were going to make out or kill each other — and with this show, it could be either). And, with Wong as a self-made millionaire, it's refreshing to see a show where the 1%, and generational wealth, is held by people of color.
Chances are you'll be singing one of the show's lead tracks, "Look At Us Now (Honeycomb)", on repeat. 
Judy Blume Forever
Where to watch: Prime Video
When: April 21
Good if you like: Knock Down The House, RBG, Maya Angelou: And Still I Rise
There are few people who get the full name treatment, and Judy Blume is one of them. For decades, the children's book author has spoken to the worries, questions, and excitement of adolescent readers when it comes to understanding themselves and their sexuality as they begin transitioning into young adulthood, and the Prime Video documentary is a beautiful ode to her life and impact. The doc, which features interviews with Lena Dunham, Molly Ringwald, and Samantha Bee, covers her first $350 book advance to the worldwide phenomenon of Are You There God? It's Me Margaret, and eventually her battles against book banning and censorship. Judy Blume is front and center as she talks about removing shame around periods and masturbation with great archival footage over the years. If you're looking to honor Women's History Month year-round, Judy Blume Forever is a great one to keep the energy going.
Love & Death
Where to watch: HBO Max
When: April 27
Good if you like: The Undoing, Dirty John
Affairs are often messy, and in Love & Death, they're straight up deadly. A re-telling of the 1980 murder of Betty Gore, the HBO Max series gives viewers a BTS look into the affair between Gore's husband Allan and neighbor Candy Montgomery. Montgomery would later be charged with Gore's death. It's a story that's been told before (and a genre of TV that's very divisive), and the series seemingly knows that. Unlike true crime shows that have come before it, the series — starring Elizabeth Olsen as Candy — seems to wink at the ludicrousness of the entire situation; from Candy and Allan's extended courtship (they talked about having an affair for months before starting it, even making pros and cons lists).
It's less dark and full of jump scares than some of creator David E.Kelley's other work (see: Big Little Lies, The Undoing, and Nine Perfect Strangers), but nonetheless eerie. Olsen and Jesse Plemmons give stellar performances as two lonely people who don't want to hurt anyone and in the process end up hurting everyone. It won't make you feel great about marriage, but does make for a great Sunday night watch.
Are You There God? It's Me Margaret
Where to watch: Theaters
When: April 28
Good if you like: The Edge Of Seventeen, Sixteen Candles
April is (un)officially the month of Judy Blume because not only do we get the Prime Video documentary on the author's life, we finally get a film adaptation of her 1970 classic Are You There God? It's Me Margaret. Yes, that means it's taken more than 50 years to bring the earnest coming-of-age story of pre-teen Margaret Simon (Abby Ryder Fortson) as she works through her anxieties around getting her period, buying her first bra, and liking her first crush — all against the backdrop of navigating her Jewish and Christian background. 
While the film isn't necessarily a streaming flick, this is one that's worth the trek to the theaters for the nostalgia — I totally forgot how I also chanted, "I must, I must, I must increase my bust" — the thoughtful discourse around pre-puberty and religion, and to experience rom-com darling Rachel McAdams firmly in her mom era. We love to see it.
Like what you see? How about some more R29 goodness, right here?
'The Last Of Us' Ellie & Riley Live & Love
Bling Empire: New York Gets Real
Last Of Us Creator On Emotional Episode 3