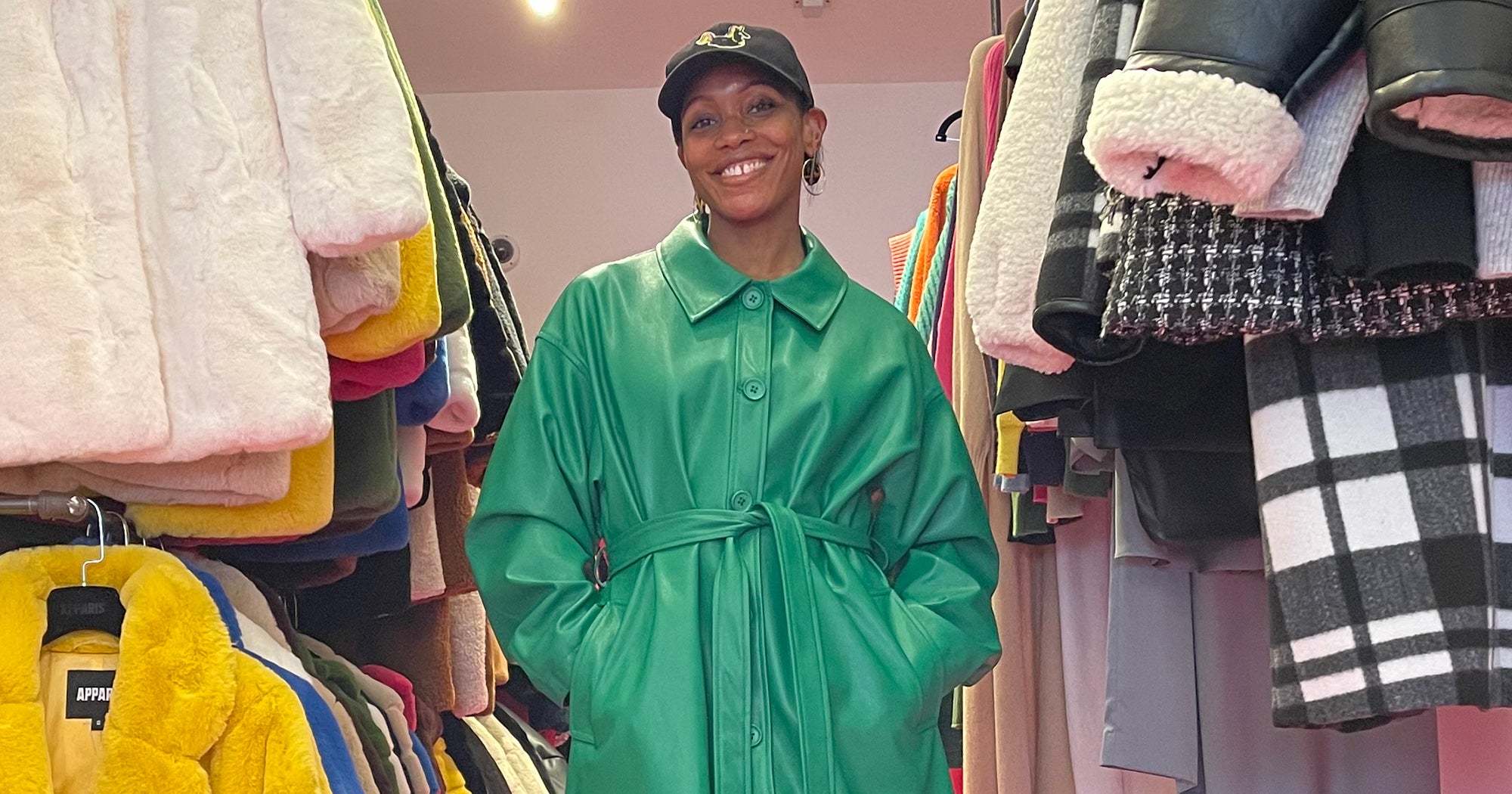 Checking Out is a new shopping column straight from the cart of Simone Oliver, Refinery29's global EIC. She wears many hats (all of them stylish), and she's always got an inspiring, wish-worthy list on deck. Watch this space for monthly market musings from Simone (and sometimes, a special guest). These aren't just editor's picks — they're THEE editor's picks.
This is a very passionate love letter to the color green, simply because of the way it makes me feel. Sometimes when getting dressed I'll match my mood to a green hue, and regardless of where my emotions are that day, my posture feels straighter and my energy is cheerful and breezy. I feel more alert and self-aware — especially in a world where I sometimes feel swallowed alive by constant turmoil and inconsistencies. Take it from internet-famous "Green Lady" Elizabeth Sweetheart, who told the New York Times in 2015 that "I'm always doing things to keep happy, and green is just the most positive color." The American Psychological Association even declared that "green is good" in a 2001 cover story.
Sure, my various shopping carts are dominated by green thanks to spring's imminent arrival — but even during those long stretches of winter, sporting a Kelly green blazer felt like wearing a cloak of hope. It's undeniable that we're in the throes of a seasonal re-emergence, so when I spot someone carrying a Kermit the Frog-colored clutch in the street, it's the sartorial equivalent of seeing little flower buds emerge on ground that was once barren. In fact, when I threw on this verdant trench from Apparis's soon-to-be-released Bold Escape collection, I was practically airborne.
And while shades of green haven't scored a place on Pantone's Color of the Year list since 2017 (Greenery) and 2013 (Emerald), you can't deny that 2021 was the year that brands like Bottega Veneta (and Jacquemus) owned the stage — even forcing the term "Bottega green" into our lexicon and wardrobes. Google found that "sage green" was one of the top-searched "aesthetics" in 2021, and Etsy declared that emerald would be color of the year in 2022. Even Apple has introduced a new iPhone 13Pro option in the growingly popular gray-green "alpine" hue, and it's slick. 
But let's #neverforget all the other important players in the green spectrum — acid, pistachio, seafoam, mint, lime, hunter, emerald, forest, sage, moss, olive, to name a few. I have so many favorite that I created a highlight reel of the green tones that are filling up my cart right now. Even if you're telling yourself you're not into colors, it's all good — the items I'm sharing here range from entry-level to pro, whether you're simply green-curious or have already mastered the art of monochrome.
Lime Green
The most acidic of all the greens, lime is one of those boldly discordant tones whose electrifying hue clashes so much with the colors around it that it comes full circle and somehow goes with everything. Whether you're opting for head-to-toe citrus or just want to finish off your look with a colorful, juicy burst, this high-viz tint is just the ticket.
Kelly Green
A grassy green with cool undertones, Kelly is probably the truest hue on the scene and has been embraced by brands like Simon Miller, Bottega Veneta, Jacquemus, and Longchamp to create a verdant color story for fashion fans to follow.
Mint Green
This airy, breath-of-fresh-air green has come far from its 1960s-housewife heyday, showing up on everything from the thoroughly modern, internet-breaking Jacquemus "Chiquito" bag to a pair of $30 TikTok-viral athletic shorts. Whether it's a barely-there Wint-O-Green hue or a deeper, fresh-making spearmint splash like that of Ferragamo's tried-and-true Vara pump, the addition of mint is sure to wake up your wardrobe and put some pep in your step. (Its laid-back saturation level will also go with more intense shades on the color wheel, as evidenced by this hybrid olive-Kelly-mint green mashup sported by influencer Lydia Okello.)
Emerald Green
The chill elder sister in the green family, emerald is the perfect hue for devotees of neutrals who want to dip a toe in the green pool without leaving their navy-blue-and-black comfort zone. In recent months, the jewel tone has made an appearance on Victoria Beckham's runway and garnered a "color of 2022" nomination from Etsy.
At Refinery29, we're here to help you navigate this overwhelming world of stuff. All of our market picks are independently selected and curated by the editorial team. All product details reflect the price and availability at the time of publication. If you buy or click on something we link to on our site, Refinery29 may earn commission.
Like what you see? How about some more R29 goodness, right here?