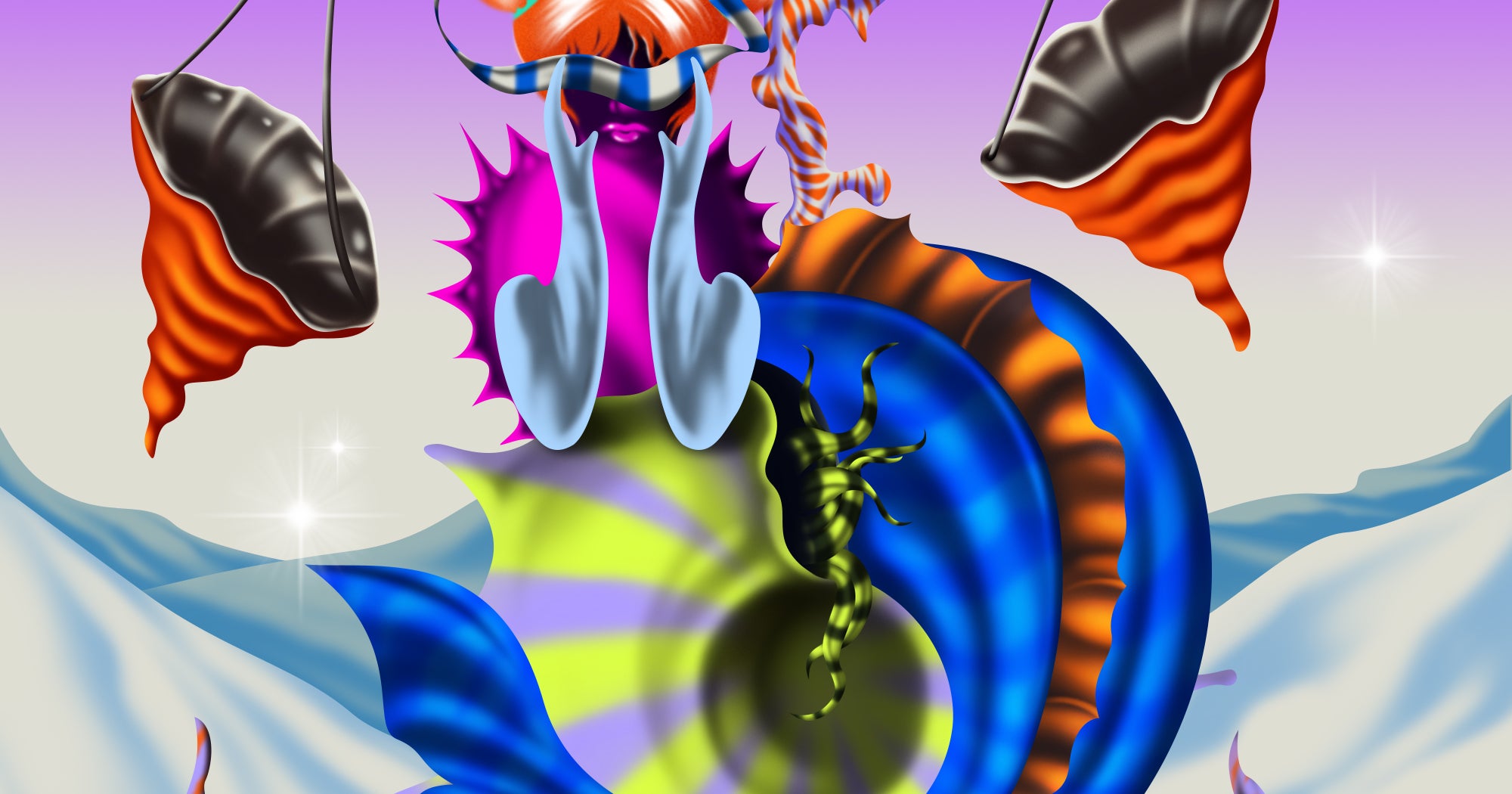 This first week of Libra Season and final week of September helps usher in dynamic, harmonious, and social energy into the cosmos, and after a period of back-to-back retrogrades, this will feel like a much-needed breath of fresh air. The recent equinox symbolized a change in seasons, not only on an external level, but on an internal one too. All zodiac signs are likely to feel deeply rejuvenated by this new solar season.  
It's also a full moon week, as the Aries Full Moon strikes on the 29th at 5:57 a.m. EST. Full moons tend to be felt most potently in the four days prior to their transit, so we may collectively be feeling both stimulated and tired this week — staying hydrated is key as this is a particularly fiery full moon (especially when combined with Venus' presence in Leo).  
The main astrological theme of this week has to do with taking bold leaps of faith in the direction of our heart's desires, without letting our limiting beliefs hold us back from the fresh start we've been dreaming of. 
Read your horoscopes for your Sun and Rising signs for the most in-depth forecast.
Aries Sun & Rising:
Aries, you've made it to your annual full moon, and it may feel like major parts of your life are coming full circle. Give yourself plenty of time to rest as the week begins, as this full moon energy can tire you out more than most. Also ensure that you're hydrated and not glued to technology, as Mars, the Planet of Action, will oppose your full moon, which could lead to you being spread in several directions at once. Say no to what burdens you. 
With Libra Season activating your partnership sector for the next four weeks, you'd benefit from inviting more harmony and equilibrium in your partnerships, especially if you've been in your own world during Chiron's retrograde through your sign these past few months. People may be wanting to connect with you, but they may feel like you're inaccessible. The Sun's presence in Libra helps infuse more social and light-hearted energy into your consciousness, allowing you to open up to others about what you've been experiencing, while being curious about what they're navigating as well.
Taurus Sun & Rising:
Taurus, Libra Season's energy is bringing more love into your life, especially when it comes to falling in love with your daily routine. The equinox's energy continues to be felt this week, helping you innovate your day-to-day strategies by first asking for help when it's needed, and second, actually being willing to receive help once it arrives. Tap into your ruler Venus' current presence in Leo and be more spontaneous this week — if you see an opportunity that speaks to you, claim it rather than overthinking it or waiting for the "right" time. The time is now.  
On the 29th, the Aries Full Moon activates your sector of spirituality and closure, which serves as a contrast to the lighter energy of Libra Season. Since Mars in Libra will oppose this Full Moon, a part of you may struggle between your desire to heal on your own, and your need to feel supported by others in your healing journey. Take time to journal your thoughts and feelings with yourself first and foremost, and when it feels right, open up to the people who make you feel safe. You're not alone, Taurus.
Gemini Sun & Rising:
Gemini, now that your ruler Mercury is adjusting to its direct motion in Virgo, you're able to tackle important life priorities that you had previously procrastinated on. The Sun's presence in Libra allows you to be more creative, light-hearted, and social than you felt earlier this month, making this a great week for hitting up friends or connecting with your lover(s). Just make sure you're not overpromising, because Mars' presence in Libra could lead to you biting off more than you can chew when it comes to social engagements. 
On the 29th, the Aries Full Moon shines its light on your sector of social networks and technology, further highlighting the need to be more discerning, and honest, in your connections and friendships. If you've felt annoyed by someone or by a group of people, there's no need to fake it — allow yourself to branch out as the month ends and do your own thing. Your real friends won't take it personally, but they'll instead celebrate and respect your independence. 
Cancer Sun & Rising:
Cancer, with the equinox and Libra Season activating your sector of home, roots, and your past for the next four weeks, you'll be in a cocooning phase, yet the airy energy of Libra will also inspire you to emerge and connect with new people from time to time. Find a harmonious balance between indulging in self-care while also allowing others to take care of you, Cancer. You'll be swayed by the Venusian nature of Libra Season, inspiring you to let love in.  
The Aries Full Moon on the 29th is likely to bring significant changes to your career. If you've been in the mood to revamp your professional landscape, the Aries Full Moon could burn away your fears and amp up your confidence. Taking a leap of faith is advised right now, so whether you decide to ask for a promotion or courageously quit your job, know that this ending is simultaneously a new beginning.  
Leo Sun & Rising:
Leo, now that it's Libra Season, you're likely to feel more communicative and openminded than usual, as the airy Libra sun harmonizes well with your solar nature. Your more creative and imaginative side is likely to emerge right now. Allow your inner child to take the lead as you celebrate the rejuvenative nature of the equinox. Let go of the need to control every aspect of your life, and simply allow the winds of change to lead you to where you're meant to be.  
The Aries Full Moon on the 29th may lead to travel opportunities emerging in the coming days or weeks, as well as opportunities to go back to school or take on a new course of study. With Mars, the Planet of Action, currently in Libra, you'll sense an opposition between your desire to stay within your inner circle and your desire to branch out, perhaps through an actual move somewhere new. Give yourself time to process your options — you may have found your answer by the time Pluto ends its retrograde in Capricorn on October 10.
Virgo Sun & Rising:
Virgo, you're feeling mentally clear with your planetary ruler Mercury now direct in your sign, and now that you've passed the birthday torch over to Libras, you'll reap the benefits of material and spiritual wealth these next four weeks. Your finance and money sector is activated by Libra Season, making this a good time to plan your budget for the fourth quarter of the year, while also allowing yourself to indulge in pleasurable delights.  
This weekend's Full Moon in Aries brings attention to your sector of outside resources and merging — it's likely that you're seeking closure in a partnership you've been involved in the past six months or more. Since Chiron, the asteroid that deals with our inner wounds, is currently retrograde in Aries, this period you're traversing may be emotionally triggering or painful to navigate, although you might not outwardly show or reveal that pain. Ask yourself why you tend to wear a mask or put on a facade when you're struggling, even if it's subconsciously.
Libra Sun & Rising:
It's your birthday season, Libra! With the recent equinox kicking off your solar return period, these next four weeks are all about reinvention. Who are you ready to be, and what are you willing to invest in order to become that? As a Cardinal Air sign, you're often changing, and you can also be quite influenced by people around you. This week, centralize yourself. Do your best to tune out all the outside noise and tune into what your heart needs to feel the most ease, bliss, and expansion right now.  
The Aries Full Moon on the 29th opposes Mars' current transit through your sign, so the advice you read above may feel easier said than done as we get closer to the end of the week — but it doesn't mean it's impossible. Since the Aries Full Moon activates your sector of partnership and marriage, chances are that you'll reach a turning point, or a breaking point, in an intimate partnership. That could look like a breakup, a make-up, a marriage, a period of re-evaluation, or a need for closure. Ultimately, this full moon week serves to bring you closer to yourself by reminding you to avoid co-dependency in partnerships, and focus on healthy interdependency instead.  
Scorpio Sun & Rising:
Scorpio, we've made it to Libra Season, which can be viewed as your annual hibernation season, or alternatively, the prelude to Scorpio Season! As the week begins, your main focus should be staying on course with your priorities, as the airy nature of this week could lead to you getting sidetracked by social proposals or invitations. Your hermit side may take the lead, but the fact that your planetary ruler Mars is currently in Libra could increase feelings of indecision.  
Fortunately, the Aries Full Moon strikes on the 29th, lighting a fire under your butt and reminding you that taking action when it feels right can change the trajectory of your life for years to come. You're most likely navigating both an ending and a new beginning when it comes to the way you want to show up in the world on a regular basis. Perhaps you've outgrown a certain role at work, or in your community, and you're ready to don a new hat. Use the four days before the full moon to write down a list of everything you're ready to leave behind, and then safely burn that list or tear it up. This will make space energetically for the new chapter you're bolding stepping into.  
Sagittarius Sun & Rising:
Sag, it's time to play! Ever since your ruler Jupiter's been retrograde in Taurus, you've been feeling less social and more introverted. But now that the equinox has struck and the Libra Sun is in your sector of friendships and social networks for the next four weeks, you're ready to let down your guard and let yourself be more carefree and jovial. Set aside some time to do something special just for yourself this week, whether that's going on a bike ride or playing hooky from work.  
The Aries Full Moon on the 29th lights up your sector of home, roots, and the past. Since we're two weeks away from the end of Pluto Retrograde, this full moon may shed light on areas of your past (including family drama or family secrets) that you need to acknowledge in order to feel spiritually at peace. If there's been a thought or question nagging at the back of your head for weeks or months, by the time the full moon strikes you may finally feel ready to ask it out loud to the parties involved. You'll feel infinitely better once you've cleared the air, even if it initially makes you or others uncomfortable. 
Capricorn Sun & Rising:
Capricorn, the Sun now traveling through Libra, a fellow Cardinal sign, is helping you be more open-minded and expansive in your modes of expression. While this seasonal change may initially throw you off, it's also likely to bring more luck and love into your life, especially professionally-speaking. An opportunity that you've been waiting on or manifesting for several months could suddenly appear before you in the first half of the week. You may initially think it's too good to be true — but it's not, Capricorn. It's custom-made for you. 
Meanwhile, several changes are occurring on a domestic front as well, as the Aries Full Moon lights up your sector of home, roots, and the past on September 29th. Many Capricorns may be ready to switch up the look of their home through redecorating. Relocating may also be on your mind during this full moon passage. You're more likely to spontaneously take a leap of faith and let the cards fall where they may at this point in time. While others may be shocked by this seemingly impulsive behavior, deep down you know this has been something you've been wanting to do for a while now. If it feels right, go for it. 
Aquarius Sun & Rising:
Aquarius, now that the Sun's back in a fellow Air sign, you're likely to feel more "yourself." This could also lead to more people flocking your way, as Libra Season activates your sector of expansion, philosophy, and long journeys. This is an ideal week to plan a trip somewhere you've been wanting to go for a while. With both of your planetary rulers — Saturn and Uranus — retrograde right now (in Water and Earth signs, respectively), you're likely to feel inspired by places that have a blend of water and greenery, such as a tropical island. Giving yourself time to simply let your mind rest as we enter a new season is highly recommended.  
On the 29th, the Aries Full Moon strikes in your sector of communication and creativity. If you have a big project to launch or if you've been wanting to pitch a proposal to a VIP, do so between September 25 and October 2, as this is when you'll feel the effects of this potent lunation most intensely. Aries energy harmonizes with your innovative Aquarius nature and highlights your innate leadership capacities. You could be offered an important leadership position in the second half of this week — check in with your values to make sure it's aligned with your "why."
Pisces Sun & Rising:
Pisces, now that Libra Season is activating your sector of wealth, merging, and intimacy, your sensual nature will feel even more tangible, and people are likely to be drawn to you in a magnetic and ethereal way. Don't let all of the attention get to your head — get clear on who can be trusted, and set boundaries with those who make you feel so-so. 
The Aries Full Moon strikes on the 29th and lights up your money sector and also boosts your self-esteem considerably. Think back to where you were right after your birthday season of this year, at the start of Aries Season. Chances are, the person you were back then is vastly different than how you feel now, and this process of evolution and transmutation you're going through is outwardly visible too. Your main mission this full moon week is to have enough discernment to know who to keep around in your orbit, because you're leveling up — big time.
Like what you see? How about some more R29 goodness, right here?
The New Moon In Virgo Has Arrived
Libra Season Is Here To Start Your Rebrand
How The Moon Phase Trend Finds Your Soulmate